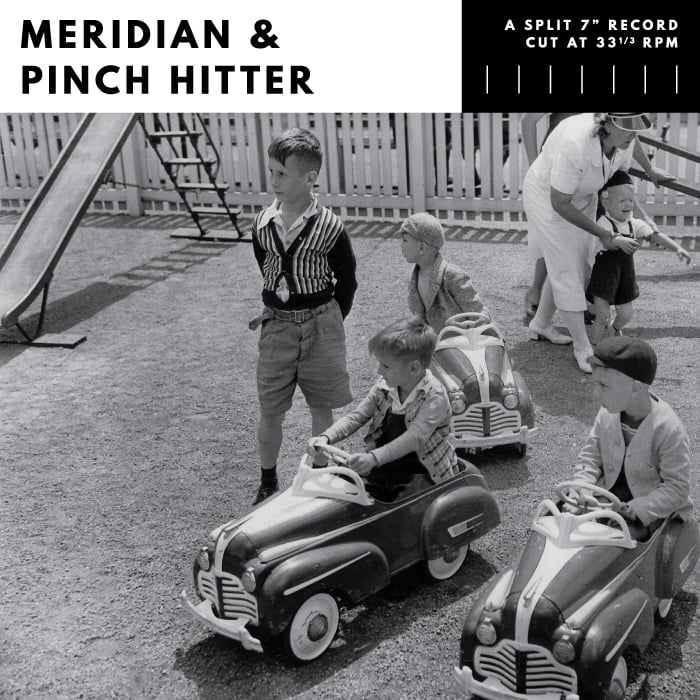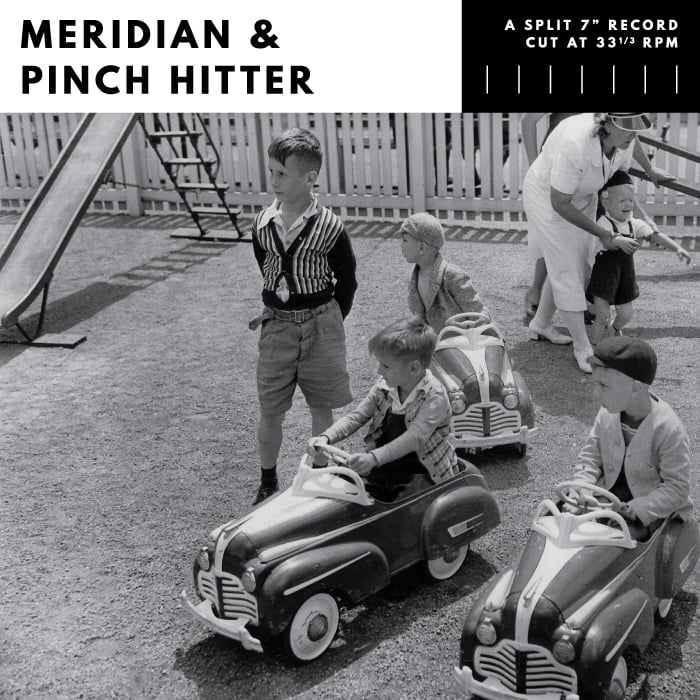 Meridian/Pinch Hitter - split EP (black, clear or clear w/black smoke)
by Meridian , Pinch Hitter , Signals Midwest , and Youth Conspiracy Records ,
$6.00 / On Sale
THIS IS SHIPPING NOW!
PLEASE DOUBLE-CHECK YOUR MAILING ADDRESS WHEN ORDERING. YCR IS NOT RESPONSIBLE FOR LOST OR MISDELIVERED PACKAGES!
NOT INTERESTED IN VINYL? YOU CAN ORDER THIS ALBUM DIGITALLY VIA THE YCR BANDCAMP RIGHT NOW!
HEY AUSTRALIANS: You can order this record from Lost Boy Records right here and save yourself a few bucks!
A Brief History Of The International Sensitive Men's Convention
A convention, in the sense of a meeting, is a gathering of individuals who meet at an arranged place and time in order to discuss or engage in some common interest. The most common conventions are based upon industry profession, and fandom. To the knowledge of the board, the ISMC - an annual event with a focus on feelings, emotions, and sensitivity - is the first of its kind.
The inaugural annual ISMC took place in February 2013 at Mahall's 20 Lane Bowling & Conference Center, Lakewood, OH.
Following its initial success (post-conference reports showed record levels of emotions and an acute receptiveness to emotional stimulation) ISMC debuted in the Southern Hemisphere in February 2014 with a series of satellite events co-located around the Australian east coast.
This split recording is the first attempt to give a tangible permanence to the emotional research conducted by the ISMC's North American and Australian chapters, their findings presented across the four sections of this audio-visual artefact.
TRACKLISTING
A1 Meridian - Laila, I'm Sorry
A2 Meridian - Wait, Move (alt. version)
B1 Pinch Hitter - I Like That You Make Bad Decisions
B2 Pinch Hitter - Body Clocks (alt. version)
PRESSING INFORMATION
100 - black
100 - clear
100 - clear w/black smoke
This is YCR-015 / LBR-004.
Availability
black 95%
clear 95%
clear w/black smoke Sold Out